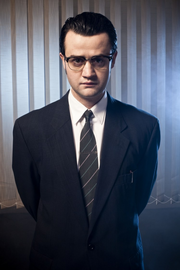 DCI
Jim Keats
(
Daniel Mays
) appears as the main
antagonist
of the third series, as an officer sent from the Discipline and Complaints Department (D&C) to assess Fenchurch East CID as part of
Operation Countryman
. During episode one, Keats quietly vows to Hunt that he will "dismantle the station around him" and that he knows "what Hunt really did", along with informing
Alex Drake
that he'll "help her" and that he knows "what she is going through".
Upon finding that Drake requested old files and statements regarding the death of Sam Tyler, Keats informs Drake that he thinks Hunt killed Tyler. Keats also claims in his debut episode to have an extensive knowledge of the Bible. During episode two, Keats tries to drive a wedge between Hunt and his team. He does this by managing to convince Sharon Granger to resign and convinces Ray Carling to risk his life to make up for "mistakes made in the past". The true extent to which he is willing to take his vendetta is revealed when, upon discovering the badly-injured Viv James in the aftermath of a prison riot, he actually watches James die, placing a hand either side of his head, rather than attempt to provide medical assistance, Keats claiming that James was dead when he found him to increase the negative impression of Hunt he has been trying to create. In the final episode it is strongly implied that Keats is in fact the devil, a detail confirmed by the writers and actor in an interview on the BBC website . As he calls the lift (the door code to which is 666) to transport Ray, Chris and Shaz to a better place, one can hear some screams from where the lift came from and the lift comically says "Lift Going Down". He also attempts to corrupt Ray, Chris and Shaz into abandoning Gene and joining him (a choice that, it is implied, would have seen them taken down to hell, a detail again confirmed by the writers in an interview on the BBC website ), but they refuse and, along with Alex, "go to the pub", passing on from their lives in the 1980s. Defeated, Keats slinks away, but not before remarking that he and Gene will see one another again, likely meaning that Keats intends to keep trying to turn the next officers to enter Gene's world against him.
Community content is available under
CC-BY-SA
unless otherwise noted.